About Us
Our Story
Kindness Shake (KS) is a community and student-led initiative, launched during the outbreak of the COVID-19 pandemic. It supports and focuses on international students, migrants, refugees and temporary visa holders who are experiencing financial difficulties. This partnership between international student volunteers, education and training providers, local businesses, multi-cultural groups and Governments aims to ensure that no one in the NT affected by the crisis goes to bed without a meal and a kind and genuine smile.
INTERNATIONAL STUDENT SETTLEMENT
Facilitating international student settlement in the Northern Territory includes tailored plans, orientation sessions, and cultural events to reduce challenges. Key actions comprise developing Settlement Plans, arranging affordable accommodation, informing students about local services, collaborating with existing student communities for airport pickups, and enhancing English language skills.
EMPLOYABILITY
Improving international students' career prospects includes linking them with local employers, offering workshops, and mentorship. This goal seeks to enhance students' job awareness and skills while creating networking chances. Key actions involve working with local businesses, skill programs with experts and institutions, and hosting "Skill up 2 Scale up" networking events.
COMMUNITY ENGAGEMENT
Fostering interaction between international students and local residents through community events, partnerships, and government support. It offers international students opportunities for volunteering, cultural exchange, and multicultural exposure, culminating in the annual Kindness Festival. Key actions include facilitating volunteering, engaging with First Nation students and Elders, and promoting multiculturalism.
ADVOCACY
Advocates for international students' rights, collaborating with institutions, and raising awareness. It aims to empower students by providing legal guidance and support, fostering knowledge, access to resources, and dignity, and contributing to their well-being and success in the community.
Our Team
Ben Poveda-Alfonso
CO-FOUNDER
Ben is a passionate advocate for multiculturalism, youth empowerment, and international education. He held leadership positions during his studies, such as President of the CDU Students' Association. Currently a Policy Officer for the NT Government, he's committed to improving the welfare of international students. Ben's accolades include the 2020 CDU International Alumnus Award and being a finalist for the 2020 Excellence in Youth Leadership Award in NT.
Ali Dhirani
STRATEGY, GOVERNANCE AND ADMINISTRATION
Ali, a Tanzanian graduate in Accounting from Charles Darwin University, was deeply involved in student leadership and community service during his studies. He served as a Peer Assisted Study Session leader, tutor, and representative on the Academic Board. Post-graduation, Ali, now based in the Northern Territory, transitioned from roles as an Auditor to becoming a successful entrepreneur, running his own business.
Zitan "Sunny" Liu
MARKETING, COMMUNICATIONS AND MEDIA
Sunny, originally from China, moved to Darwin in 2019 after six years in Australia. Currently pursuing a Master's in Teaching at Charles Darwin University, she previously worked as a journalist in Melbourne. Engaged with the Kindness Shake from its start, Sunny loves Darwin's welcoming community, multicultural vibe, and stunning landscapes. As a StudyNT Student Ambassador and Public Relations Officer at Charles Darwin University Students' Council, she actively promotes the Territory as an ideal study destination.
Jimena Espitia
MARKETING, COMMUNICATIONS AND MEDIA
Jimena, a proud Latina from Colombia, describes herself as charismatic, kind, independent, and positively ambitious. With a professional background in Marketing and Advertising, holding a postgraduate degree in Market Research and Consumer Behaviour, she spent over five years in Marketing and Market Research in the Events industry in Colombia. Passionate about leaving a legacy of social and human conscience, she achieves this goal by helping the international student community. Jimena has also volunteered for various social and religious organizations in Colombia, enhancing her human sensibility and social conscience.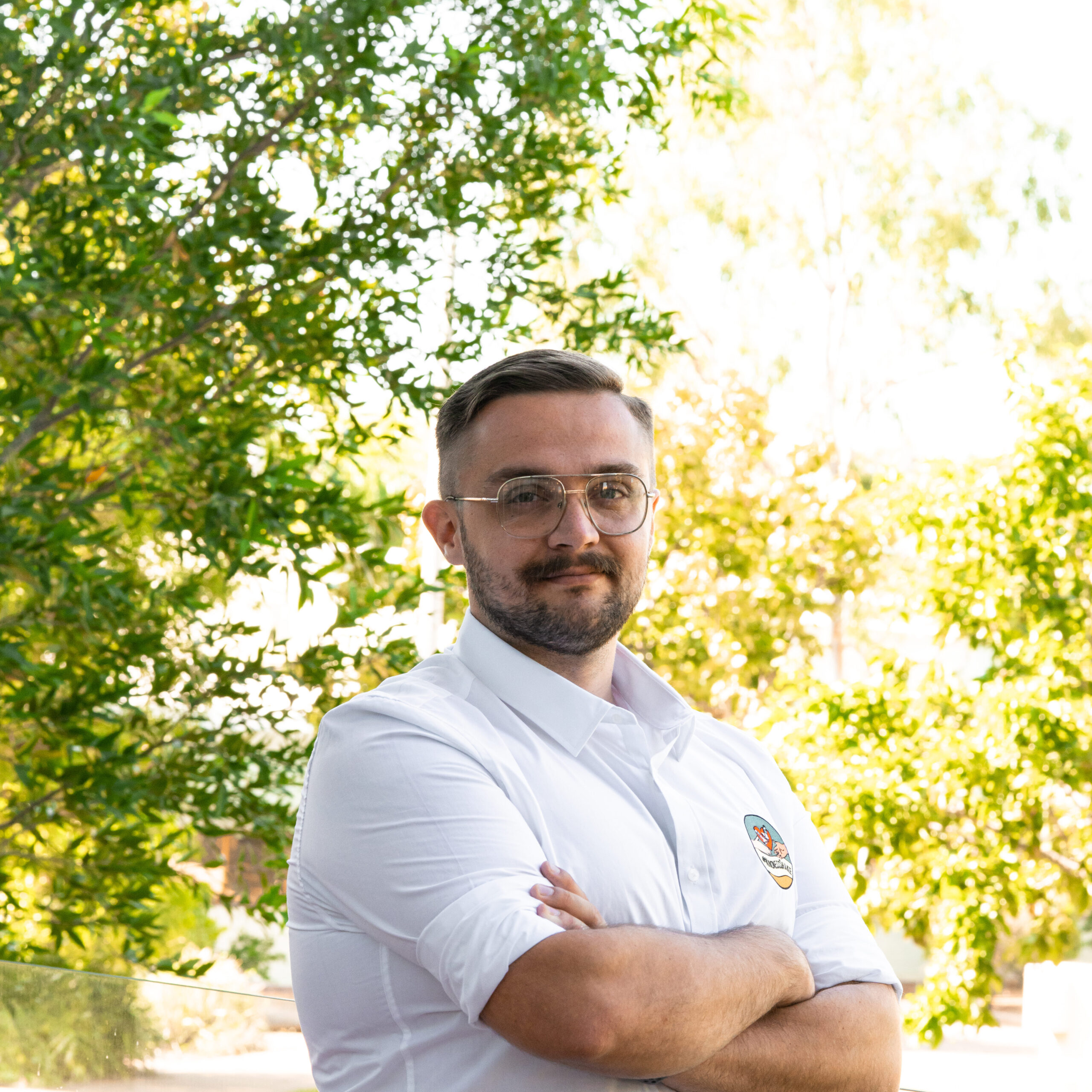 Manfred Mletsin
MARKETING, COMMUNICATIONS AND MEDIA
Manfred, an Estonian student completing his Bachelor of Accounting at Charles Darwin University, is deeply engaged in international education. With a background in Business Management, he's been a StudyNT Student Ambassador for three years and held roles in the Council of International Students Australia, advocating for education, health, and wellbeing of international students. Manfred, also a Public Relations Officer with CISA, collaborates with key organizations in the field. With expertise in branding and business management, he runs his own small business, considering the Northern Territory his second home.
Ana Nuñez
VOLUNTEER MANAGEMENT
Ana, originally from Argentina and in Australia since 2012, holds a background in Political Science and studied Education at Charles Darwin University. Currently teaching foundation English and settlement skills at STEPS AMEP and Training, she passionately connects with students worldwide, emphasizing the importance of education for change. Ana, a Spanish interpreter for the Northern Territory Government and the Australian Department of Home Affairs, recently launched her translation business. Her true joy lies in inspiring and supporting international students and migrants to reach their full potential.
Tatenda Mapuranga
VOLUNTEER MANAGEMENT
Tatenda, hailing from Zimbabwe, recently graduated from Charles Darwin University with a degree in Business. Inspired by friends, he became an advocate for students, volunteering as the Human Resources Manager for the Council of International Students Australia. Tatenda continued his involvement with the Charles Darwin University Students' Association, contributing to student-led events. Affectionately known as "Tate," he now serves as the International Student Support and Enquiries Officer at Charles Darwin University Global.
Thach "Kylie" Thao Tran
EVENT MANAGEMENT
Kylie, from Vietnam, is currently pursuing a Bachelor of Accounting at CDU. Despite the challenges of studying abroad, especially during the onset of COVID-19, Kylie embraces the positive aspects. During the pandemic, she turned to volunteering and joined The Kindness Shake, finding both friends and connections. Twice a week, she volunteers at RSPCA, caring for dogs seeking adoption—a source of joy and a remedy for missing her own pets. A dog lover, yoga enthusiast, avid cook, and photography enthusiast, Kylie is a firm believer in inspiring change and encourages others to appreciate it too.
Denis Mitrov
PARTNERSHIPS, COMMUNITY ENGAGEMENT AND FUNDRAISING
Denis Mitrov, a Swiss-Croatian dual citizen and international student at Alana Kaye College, represents a blend of values from both cultures. Stepping out of his structured life to grow and explore, he chose Darwin. Amidst personal challenges, he founded Connecting Experiences and a Podcast to provide support. Joining The Kindness Shake team, Denis is committed to positive actions. He believes in treating others well, sees goodness in the world, and enjoys engaging in long and intense discussions.
Crystal Zhao
EXECUTIVE ASSISTANT AND PROJECT LEADER 

Crystal, also known as Yuquing Zhao, hails from Xi'An, China, and has resided in Australia since 2016. Currently pursuing a Master of Teaching (Early Childhood and Primary) at Charles Darwin University, she previously earned her undergraduate degree at Griffith University, majoring in International Tourism and Hotel Management. With three and a half years of volunteer work, including a year as president of the Griffith University Chinese Cultural Association Gold Coast, Crystal honed skills in event organization, risk management, event process design, and sponsorship seeking. Her passion lies in event planning, driven by her love for connecting with people of diverse backgrounds and structuring engaging experiences. She envisions creating meaningful activities for students and the community, aligning with her values. Crystal boasts two years of administrative assistant experience at H Property Group and holds a strong affection for Darwin, a multicultural and inspiring city.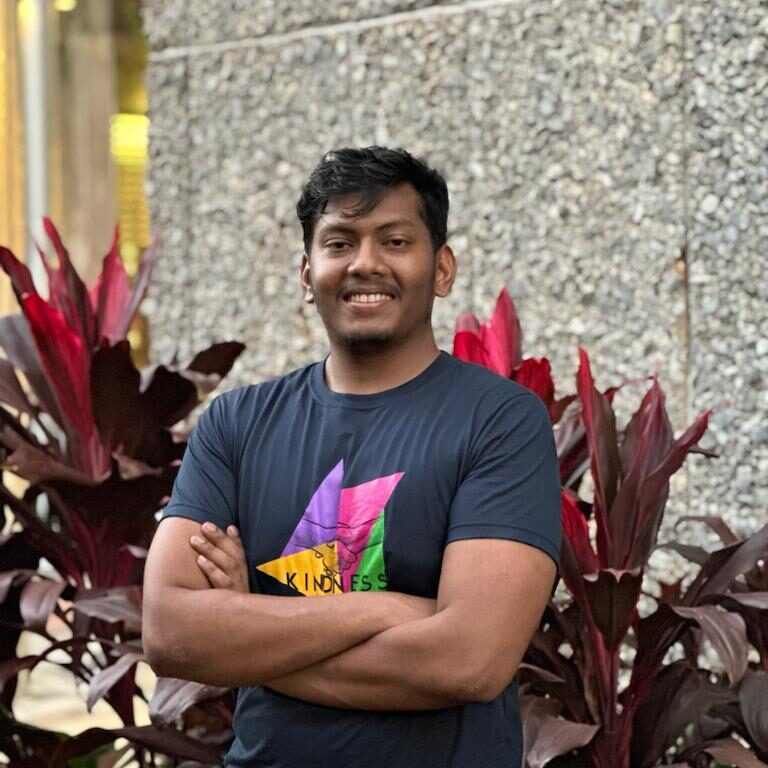 Victor Dinakar
Victor, originally from India and currently a CDU student pursuing a Master's in Information Technology Software Engineering, initially engaged as a participant in Kindness Shake events. Inspired by the organization's impactful work benefiting international students, he became an active member, contributing to events like Skill Up to Scale Up and the Kindness Festival. Volunteering facilitated friendships upon his arrival in Darwin, connections with industry experts, and enhanced career prospects. Victor particularly enjoyed the Kindness Shake Festival 2022, which offered a vibrant atmosphere, valuable networking, and diverse learning experiences. His dedication earned him a Certificate of Recognition as a volunteer in the NT. Even with a full-time job, Victor remains committed to volunteering, finding it both joyful and professionally enriching. His advice to fellow international students: seize volunteering opportunities; they often lead to positive outcomes.
Shanthi Annapareddy
Shanthi, originally from India, is currently pursuing a Master's in Information Technology, Software Engineering. With over two years of IT industry experience as a system engineer back in India, her journey in Darwin took an inspiring turn when she encountered Kindness Shake at the International Student Awards. Meeting Jimena and later, Ben, she was drawn to their dedication to the international student community. Shanthi found her calling with Kindness Shake, and her most memorable experience was the "Skill Up to Scale Up" session, which provided valuable networking opportunities. Connecting with others, she realized the common challenges and emotions faced by international students. Shanthi encourages volunteers to participate in as many events as possible, emphasizing the power of networking to make friends and discover opportunities in a new place.
Roy Ma

Roy is an External Auditor, graduated with a Master of Professional Accounting (Professional Practice) at CDU and Bachelor of Commerce from UNSW. During the pandemic in 2020, Kindness Shake provided a lot of support and relief to international students and the international migrant community in Northern Territory. Being an international student who benefited from the campaign, Roy decided to join Kindness Shake as part of its expansion to maximise the benefit to the community. Roy's favourite session in Kindness Shake was the Lingo to Mingle event where international students are encouraged to network with people from different cultural and language backgrounds. Roy's tip for new volunteers is not to be afraid to make mistakes. It's about trial and error.